See below for a list of points of interest that are available along the Whanganui River. There are several ways to explore the Whanganui River.
Based at Owhango, Owhango Adventures runs Canoe & Kayak tours as well as jet boat excursions along the river. Forest Lodge is an ideal overnight staging point to venture on to the Whanganui River and combined with their knowledge and experience, they can provide you with excellent accommodation and logistical support.
Pipiriki
Pipiriki, 79km from the city of Wanganui, is seen as the gateway to the Whanganui National Park. It includes an Information Centre and Museum located in the historic Colonial House.
There are several short walks of both historical and scenic interest around the village of Pipiriki.
The River Road links Wanganui with Pipiriki and offers an alternative for those who prefer to drive rather than travel by canoe or boat. The road provides stunning views of the Whanganui River.
Along the way you will see beautifully restored marae (meeting grounds) – visitors are welcome but permission must be obtained before entering.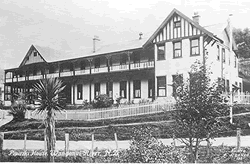 Jerusalem
The village of Jerusalem (Hiruharama) which was once part of a larger village called Patiarero, has been home to two famous figures from New Zealand history, Mother Mary Aubert, whose Catholic mission remains today, and highly recognised New Zealand poet James K Baxter, who established a retreat and commune in Jerusalem in the late 1960s.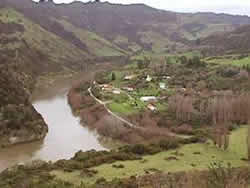 Bridge to Nowhere
The famous 'Bridge to Nowhere' is an unusual feature of the Whanganui River and National Park, which is a leisurely 40 minute walk in from the river landing, taking in the splendour of the native bush and majestic natural landscapes.
This bridge is the unofficial flagship of Whanganui National Park, an iconic symbol for New Zealand adventure tourism and a major visitor destination on the Whanganui Journey.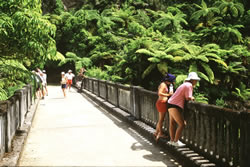 Matemateaonga Track
The Matemateaonga Track is one of the two major tramping opportunities available along the Whanganui River .
Using an old Maori trail and settlers' dray road, you are able to penetrate deep into the wilderness of the park.
The track traverses an expanse of thick bush clad hill country between Taranaki and the Whanganui River.
The walk follows the original Whakaihuwaka Road built in 1911 to create a more direct link between Stratford and Raetihi and the main trunk Railway and was hewn from papa and remains reasonably intact.
The 42km track is usually tramped in three to four days.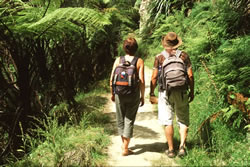 Mangapurua / Kaiwhakauka Track
The Mangapurua/Kaiwhakauka Tracks can be walked from either direction and when combined with a Jet Boat ride on the Whanganui River, it creates a great Tramping/Boating circuit.
The Mangapurua Valley has many open flats and the Kaiwhakauka Track is narrow especially in the middle reaches where there is a lot of undisturbed native forest. The two valleys were rehabilitation settlements where land was offered to soldiers following WW1.
The endeavours of these pioneers, has provided a unique historic quality to this area.
The tracks follow an old road line, which makes it easy for a leisurely 3-4 day walk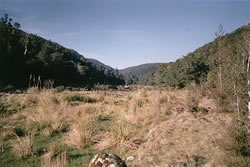 Koriniti Marae
Koriniti Marae situated 45 minutes from Wanganui City on the left-bank of the Whanganui River, already accommodates International visitors from Germany, Holland and Belgium on a regular basis, so are very experienced in the delivery of Maori Culture at a very high level.
Included in this truly authentic experience by local Maori from the Whanganui River Region are Kapa Haka, (Concert Party) Flax Weaving, Traditional Hangi, Powhiri, (Welcome) Waka Cruises, (Long-boat Cruise, Jet-Boat or 2- 6-man canoe Tours) Story Telling. (Marae and River History)
Use of home grown produce and products made by locals are always a priority for the marae.