The Whanganui River has a rich history – both Maori and European.
It also has special meaning for canoeists due to its 239 listed rapids, which offer a wide variety of challenges.
Thousands of canoeists take to its waters each year – novices included.
Canoe tour operators such as Owhango Adventures offer tours to suit all ages and levels of experience, from fully guided tours to self-hire.
Jet boat trips are another exciting way to see the magnificent scenery of the Whanganui River.
Huts and Campsites
All campsites and huts have a water supply with a table and benches for cooking, while huts have bunks with mattresses, stoves, benches, tables and cooking facilities.
Bottled gas is provided in huts for cooking and heating except at Whakahoro which has a wood-stove for heating, and electric elements for cooking.
During the winter off – season the designated campsites are free of charge.
Hut and Campsite Passes
During the period 1 October to 30 April you must buy a Great Walks Hut and Campsite Pass for the Whanganui River before starting your journey.
Passes are available from local Department of Conservation offices, information centres and other sales outlets. The pass is valid for 4 nights/5 days.
A special $10 ($5 youth) pass is available for canoeists spending one night camping in the upper section before getting out at Whakahoro.
In summer hut users must have a Facilities Pass.
In winter hut users must have a Backcountry Hut Pass.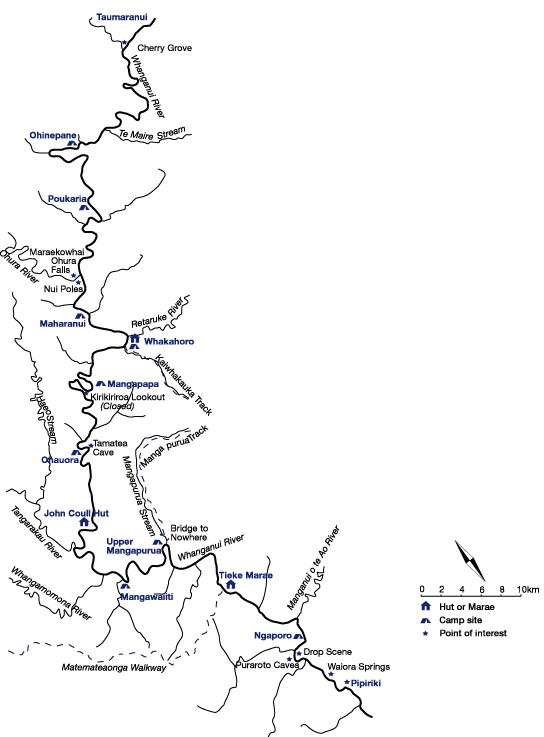 River Distance Guide:
Cherry Grove, Taumarunui to Ohinepane campsite 22 Km's
Ohinepane to Poukaria campsite 14 Km's
Poukaria to Maharanui campsite 17 Km's
Maharanui to Whakahoro Hut and campsite 4 Km's
Whakahoro to Mangapapa campsite 11 Km's
Mangapapa to Ohauora campsite 16 Km's
Ohauora to John Coull Hut 10.5 Km's
John Coull Hut to Mangawaiiti campsite 9.5 Km's
Mangawaiiti to Mangapurua campsite 9 Km's
Mangapurua to Tieke Kainga 10.5 Km's
Tieke to Ngaporo campsite 12.5 Km's
Ngaporo to Pipiriki 8 Km's